What started as the Ultimate Good Lovin' Acoustic Mix series in 2003 & 2004 evolved to the Ultimate Acoustic Emo Mix 2k15. 
It's now 2k18 and as I'm digitizing all my old mixes, I'm feeling inspired to get the band back together!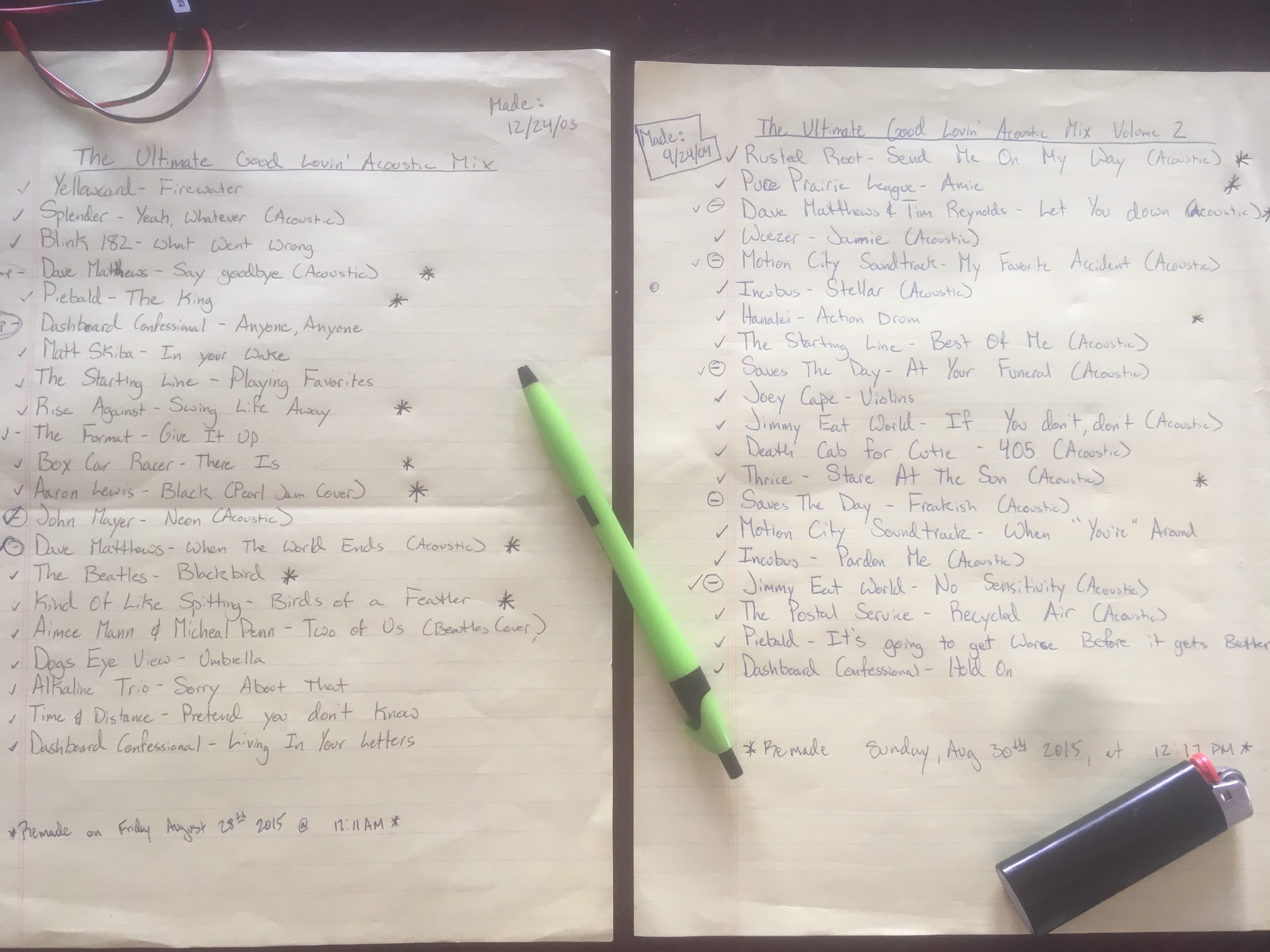 Emo kids rejoice! Spotify has most of the tracks from the original mixes, but is lacking early Dashboard Confessional albums, which is obviously the key emo ingredient for us millennials. Missing a couple bootlegs too that I've included in the full tracklist below.
Yellowcard – Firewater
The Starting Line – Playing Favorites
Sugarcult – Memory
Saves The Day – See You
Matt Skiba – In Your Wake
Taking Back Sunday – You Know How I Do
Weezer – Jamie
Incubus – Stellar
John Mayer – Neon
Aimee Man – Two of Us (Beatles Cover)
Dogs Eye View – Umbrella
Time & Distance – Pretend You Don't Know
Thrice – Stare at the Sun
Taking Back Sunday – Cute Without the "E"
The Starting Line – The Best of Me
Fall Out Boy – Grandtheft Autumn
Saves the Day – This is Not An Exit
Jimmy Eat World – If You Don't, Don't
Death Cab for Cutie – 405
Joey Cape – Violins
The Postal Service – Recycled Air
Incubus – Pardon Me
Rise Against – Swing Life Away
Alkaline Trio – Sorry About That
Hanalei – This is Going to be the Best Summer Ever
Kind of Like Spitting – Birds of a Feather